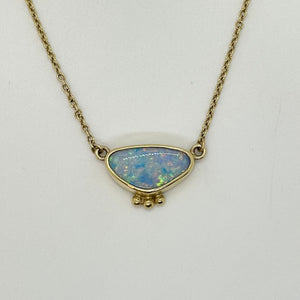 This is a lovely little pendant that can be worn every day or to pull out for special occasions.
The opal is a clam shell doublet which means it has a curved top but is a thin layer of open attached to the original matrix the opal was mined from.
Opals like this bring out all the natural fire one might see in a much more expensive stone while stabilizing the opal that is present.
The pendant itself measures 17.25 mm across and measures 12.6 mm from top to bottom when you include the beads.
The body of the pendant is 18 karat yellow gold while the chain is a 14 karat yellow gold 1mm cable chain. The clasp is a 14 karat yellow gold lobster for top notch security.
The weight of the entire pendant, with the chain and the opal, is 4.29 Dwt (6.68 grams).
The chain is just over 18 inches when you add in the pendant but can be cut down to length.