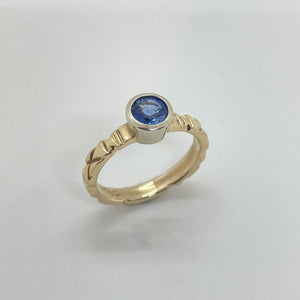 14 karat yellow gold carved band with 0.84 carat round light blue sapphire, bezel set in 14 karat white and yellow gold.
This ring is made to wear every day. The band is hand carved which makes this ring truly unique.
The ring is a finger size 7 1/4 and the ring weighs 3 DWT (4.67 grams) with the sapphire included.
The sapphire stands 5.33 mm off the inside of the ring and if you need, the ring can be sized to fit.